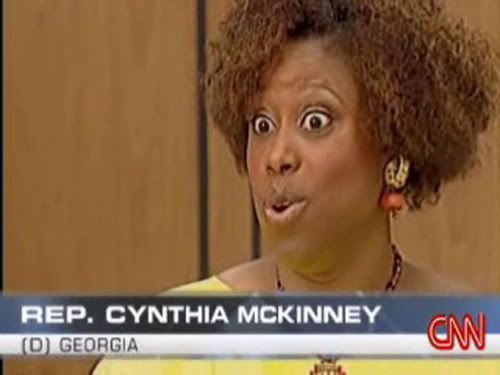 With 98% of precincts reporting, Cynthia McKinney has been soundly defeated by Hank Johnson in the Democrat runoff primary for Georgia's 4th Congressional District (
official results here).
Johnson polled 59% to McKinney's 41%. A stunning defeat for McKinney and her anti-war, anti-Bush, anti-everything backers.
Readers will recall that Muther Sheewitch was on hand for McKinney's disappointing July result that necessitated the runoff.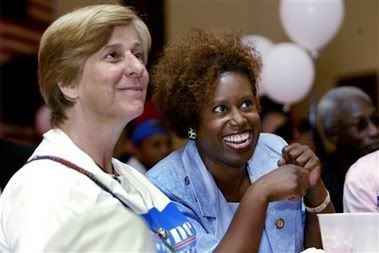 While I understand the feelings of some who wished to have the clown McKinney around to embarrass Democrats, I have no problem with a more mature Democrat like Johnson taking her place.
One less crazy Democrat in Congess is reason to celebrate!
Lieberman Narrowly Defeated, Will Run as Independent




Lamont celebrates as Al Sharpton and Jesse Jackson look on from behind. Rep. Maxine Waters (not pictured) rounded out the race baiters who had better luck in Connecticut than

Georgia.
With the statement:
"For the sake of my state, my country and my party I cannot let that result stand"
Connecticut Senator Joe Lieberman announced that he intends to run as an Independent to hold his Senate seat. With 95% of the vote counted, Lieberman lost by the narrow margin of 3.8% (
Hartford Courant Story here
).
Bottom Line: No Referendum on Bush, Just Usual

Red State

/

Blue State

Stuff


While the Connecticut result is a minor victory for the anti-war, anti-Bush, anti-everything surrender wing of the Democrat Party, the victory may be short lived. A Lieberman victory in November will keep the loony left victory count at it's current
ZERO
! The Democrat whacko wing has shown it has the power to nominate candidates by winning primaries. But, they haven't shown the ability to get their nominees elected to office. And that means more victories for centrist and conservative candidates.