Here's photo documentation of engagement at the highest level:
Vice President Dick Cheney gestures during a meeting with Egyptian Field Marshal Mohamed Hussein Tantawi Sunday, May 13, 2007, at the Presidential Palace in Cairo. White House photo by David Bohrer
Amman, JORDAN: US Vice President Dick Cheney (L) shakes hands with Jordan's King Abdullah II, 14 May 2007 in the Jordanian Red Sea resort of Aqaba. King Abdullah II urged visiting US Vice President Dick Cheney to help revive the stalled Middle East peace process during talks also focused on Iraq and Iran. Jordanian officials said the meeting between Abdullah and Cheney -- who is on the final leg of a regional tour -- would focus on bolstering security and stability in Iraq and reviving peace talks between Israelis and Palestinians.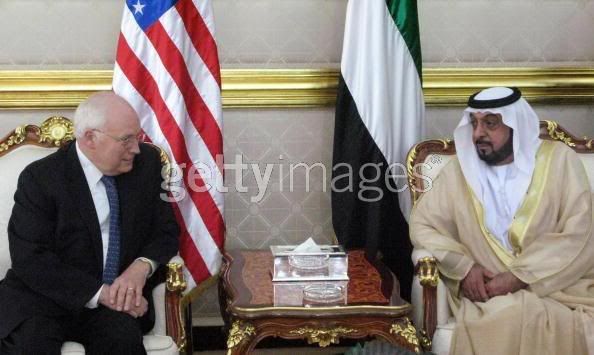 Abu Dhabi, UNITED ARAB EMIRATES: US Vice President Dick Cheney (L) meets with Emirati President Sheikh Khalifa bin Zayed al-Nahayan at the al-Bateen Palace in Abu Dhabi, 12 May 2007. Cheney heads to Saudi Arabia today to seek its aid in Iraq, two months after close US ally King Abdullah slammed the "illegitimate foreign occupation" of that war-torn land. Over the weekend, Cheney was also to visit Egypt and Jordan to wrap up a week-long Middle East visit aimed at getting Washington's friends to help pull Iraq's minority Sunni Muslims into the country's fragile political process.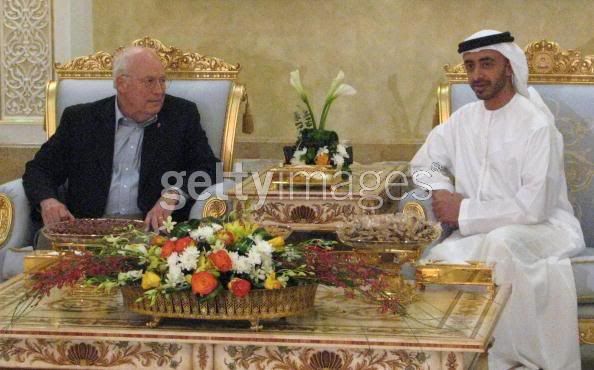 Abu Dhabi, UNITED ARAB EMIRATES: US Vice President Dick Cheney (L) meets with Emirati Foreign Minister Sheikh Abdullah bin Zayed al-Nahayan upon the former's arrival to Abu Dhabi, 10 May 2007. Cheney arrived today in the United Arab Emirates, the second stop on a Middle East tour to seek more help from US allies to quell violence in Iraq and limit Iran's influence in the region.
Interview of the Vice President by Bret Baier, FOX News
Beit al-Bahr Palace, Aqaba, Jordan

QUESTION: Mr. Vice President, thanks for being with us. Since we last talked, you've met one-on-one with a number of Arab leaders for long periods of time. What did you accomplish?

THE VICE PRESIDENT: Well, my assignment from the President was to come out and talk with our friends in the region -- most of them are old friends of mine, people I've known and dealt with over the last nearly 20 years - to focus specifically on the problems in the region, issues such as Iraq, what's happening there, the Iranian situation, the Israeli-Palestinian peace process, seek their advice and counsel as well as tell them what our thinking is on those major issues of the day.
...
QUESTION: There's another question about messages. You were on the aircraft carrier USS John C. Stennis 150 miles from the coast of Iran. You delivered a warning to Iran, a very visual warning, and now we have confirmation that these meetings in Baghdad are moving forward with the Iranians. Help people understand the different messages there to the Iranian Government.

THE VICE PRESIDENT: Well, the meetings in Baghdad will be at the ambassadorial level and the President has made it abundantly clear that they are to focus specifically on the situation in Iraq. The Iraqis have been interfering - or, excuse me, the Iranians have been interfering in the internal affairs of Iraq and that subject will be discussed at the ambassadorial level.

That's got nothing to do with the fact that we are obviously opposed to what the Iranians are trying to do in the nuclear area. They appear to be determined to develop the capacity to enrich uranium in order to produce nuclear weapons. The UN Security Council now has twice unanimously passed resolutions calling for an end to that Iranian nuclear program. So far, the Iranians have ignored it. They shouldn't ignore it. They ought to comply with the UN resolutions.
...
QUESTION: Last time we talked, we talked about George Tenet's book a little bit. In that book, he says that the al Qaeda leadership is inside Iran; and while they're under some loose house arrest, they may have been plotting attacks and they have plotted attacks from Iranian soil. Do you believe that to be true?

THE VICE PRESIDENT: We are confident that there are a number of senior al Qaeda officials in Iran and they've been there since the spring of '03. About the time that we launched operations into Iraq, the Iranians rounded up a number of al Qaeda individuals and placed them under house arrest and they're still there.

We think obviously there are other elements that are responsible for overall leadership of al Qaeda, specifically Osama bin Laden, Zawahiri. They are not in Iran, but there are some senior officials in Iran. They've been held there for some time. But activities they've been engaged in, I'm really not at liberty to discuss.