Now the left says that lying is OK because it must be true somewhere. Imagine if Trump tried that!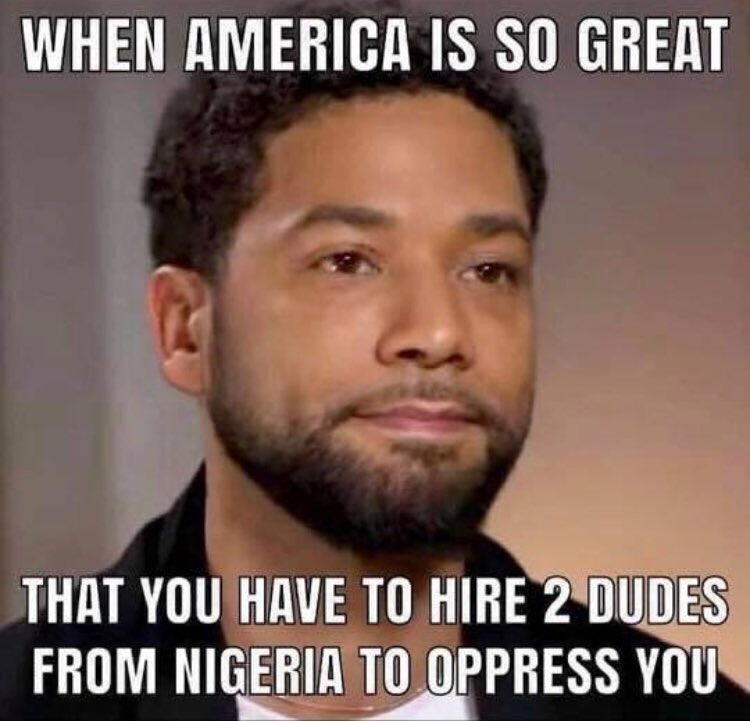 Police in Chicago arrested two men who were identified in a grainy video taken the night actor Jussie Smollete was allegedly attacked at 2 AM on one of the coldest nights in Chicago recorded history. I've
previously discussed
how odd it was that Smollet was able to fend off two attackers while holding on to his cell phone and a sandwich and how odd it is that he claims he was talking to his manager on the phone at the time but refused to turn over the phone as proof.
But now, after
claiming that the attack was racially motivated
and identifying the two men shown in the video we learn that the men are black and knew Smollett and at least one worked on the show Empire with the actor.
Watch Jussie's words and see if they make sense in light of this new information:
Here are the two men who were reported to be white and making racial and homophobic slurs while claiming Chicago was "MAGA country." Jussie: "I don't have any doubt in my mind that that's them. Never did."
Jussie's attackers? Do they look white to you?
Two brothers questioned by police say "Empire" actor Jussie Smollett paid them to participate in alleged attack, a source close to the investigation tells CBS News https://t.co/rAuDDSj4qW pic.twitter.com/6xS8os57SO

— CBS News (@CBSNews) February 17, 2019
After interrogating and releasing two men seen in surveillance video near the scene of the alleged attack on "Empire" actor Jussie Smollett, Chicago police are saying that the new information they have "could change the story entirely."

https://t.co/SXRrfsRaLY pic.twitter.com/Yleew3Z8GM

— ABC News (@ABC) February 16, 2019
Breaking: Chicago police confirm to

@FoxNews

CPD seized a bottle of bleach from

#JussieSmollet

apartment. Tonight police still call Smollett a victim. Suspects told detectives something that requires more detective work.

— Matt Finn (@MattFinnFNC) February 16, 2019
From CWB Chicago:
The Osundairos are no longer considered suspects by investigators, whose full attention is now focused squarely on Smollett, according to well-established sources.

CWBChicago has learned that federal investigators sat in as Chicago police interrogated the Osundairo brothers for two days after the men were taken into custody at O'Hare airport on Wednesday evening. The Osundairos flew into the airport minutes earlier, returning from a trip to Nigeria that began hours after Smollett reported being attacked.

Abel (L) and Ola Osundairo | TMZ
The brothers, who have a relationship with Smollett and served as extras on his TV show, saw their status with police evolve from "potential persons of interest" to "potential suspects" to being "unable to leave" custody because investigators had "probable cause that they were involved in a crime" to being set free in the course of 48 hours.

Meanwhile, Smollett has lawyered up big time.
And what about these fools? Don't hold your breath waiting for apologies or corrections. The lie lives on!
No one ever said these attackers wore MAGA hats but that didn't stop this fool from saying so and believing it proves anyone who does is a racist.
People say that wearing a MAGA hat doesn't mean you're racist or homophobic. The men who attacked Jussie Smollett wore MAGA hats. The Covington boys wore MAGA hats. It's Making America Great Again only for straight white males. Those hats are all about upholding the patriarchy.

— Melissa Blake (@melissablake) January 29, 2019
Hateful

#MAGA

Fucks brutally attack Jussie Smollett.... racist homophobic deplorables... just another pair of weak, radicalized white boys... can't spell "hatred" without "red hat"

#magahate

— America (@america_what_TF) January 29, 2019
Fuck you with your "they weren't wearing MAGA hoods" ... hats or no hats those homophobic racist cowards who attacked Jussie felt emboldened by Trump's white nationalist racist rhetoric and racist asssholes like you that justify it.

https://t.co/ShP4qIxbw2

— Christopher Backus (@_cbackus) January 30, 2019
And what about these clowns? Just another day at the office at the lie factory!
The racist, homophobic attack on @JussieSmollett is an affront to our humanity. No one should be attacked for who they are or whom they love. I pray that Jussie has a speedy recovery & that justice is served. May we all commit to ending this hate once & for all.

— Nancy Pelosi (@SpeakerPelosi) January 30, 2019
.

@JussieSmollett

is one of the kindest, most gentle human beings I know. I'm praying for his quick recovery.

This was an attempted modern day lynching. No one should have to fear for their life because of their sexuality or color of their skin. We must confront this hate.

— Kamala Harris (@KamalaHarris) January 29, 2019
There is no such thing as "racially charged."

This attack was not "possibly" homophobic. It was a racist and homophobic attack.

If you don't like what is happening to our country, then work to change it. It is no one's job to water down or sugar-coat the rise of hate crimes.

https://t.co/QAi0IYtSeR

— Alexandria Ocasio-Cortez (@AOC) January 30, 2019
What happened today to

@JussieSmollett

must never be tolerated in this country. We must stand up and demand that we no longer give this hate safe harbor; that homophobia and racism have no place on our streets or in our hearts. We are with you, Jussie.

https://t.co/o8ilPu68CM

— Joe Biden (@JoeBiden) January 30, 2019
Or this from GQ magazine:

A still-disputed aspect of the attack on Smollett is a line shouted after his attackers fled the scene: "This is MAGA country." While its veracity isn't confirmed, its sentiment needs no fact-check. America's choice to embrace the blind rage of late-stage whiteness in decline is an explicit longing for this kind of crime, a version of America in which those who do not assimilate to the satisfaction of their white, straight, and Christian betters are subject to the impunity of law enforcement, the scorn of the media and the fury of racist homophobes stalking the streets of your city, who want you to know that they could lynch you if they really wanted to, and maybe get away with it too.
Liars say truth unimportant
Since the hoax is now becoming apparent the story line, as seen above is shifting. Even if it's a lie it's true, well just because!
Blaming Trump and his supporters for
hate crimes that turned out to be hoaxes
is nothing new. Perhaps Smollett should have tried to be more original.
We ALL have a responsibility to rise up against the ignorance and hate out there. If you know who did this to @JussieSmollett, REPORT THEM TO THE POLICE.

— shonda rhimes (@shondarhimes) January 29, 2019
One wonders if Shonda will be calling for Jussie to be prosecuted for perpetrating a hoax?

Montage of lies
Watch this reporting. Every word of it a lie and repeated over and over and over:
"I can't believe this is happening in 2019." It didn't. And what a shame you didn't bother to find out before you said that!
It isn't Trump who is diving America with racial animus and hate. It's people like Jussie Smollett who LIE about racism!