Perhaps it's just the heatwave talking here. I don't know why, but when I was thinking about the news story behind this post, the title of the 1965 classic film "
Beach Blanket Bingo"
popped into my head; hence the title.
Anyway,
the news
is: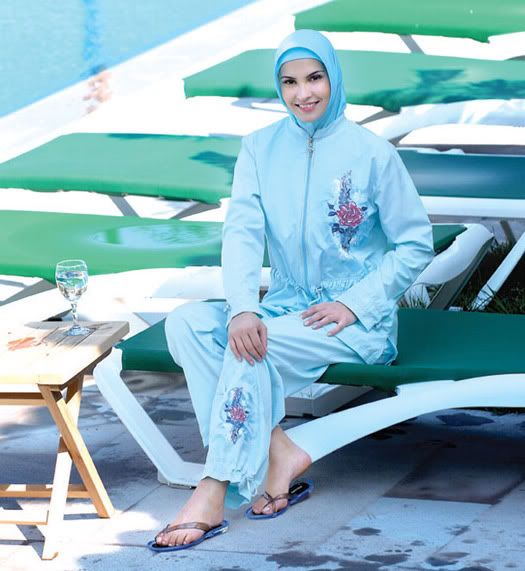 Hotels at an Italian seaside resort are eager to act on the town's decision to authorize the creation of all-female beach sections for Muslim women, with at least one hotel owner saying Friday that plans are already under way to open the first of such secluded areas next month.

[Editor: Muslim appropriate beach wear above (catalog here for our Muslim friends). But is it? ALLAH! She's showing her ankles, the HARLOT! Stone her!]

"They can have anything they want, but they can't go to the beach, at least not without all those heavy clothes," Attilio Cenni, owner of the upscale Grand Hotel des Bains, said of his female Muslim guests.

Supporters of the idea say that the separate beaches would allow observant Muslim women to shed their headscarves and long robes and enjoy the sun in privacy; religious restrictions otherwise oblige them to cover up if men are present.

While Riccione's municipality would consider authorizing the construction of reserved seaside swimming pools, Cenni said he hopes he will be allowed to close-off the entire beach with covered partitions and have female lifeguards patrol the sea in water scooters to keep men away. In Italy, all shorelines must be accessible to the public.
O.K., so Muslim women wish to have areas where they can enjoy the beach without compromising their Islamic beliefs. Can we now look forward to Saudi Arabia allowing similarly culturally sensitive setups for those who practice tChristiantan religion and women who may wish to visit Saudi beaches in bikinis?
And what if solecherousous Italian male makes it past the Amazonian female beach guards on Ski-Doos and breaks onto the beach? What a panic!