Iran's "game of chicken" about to hit a brick wall?
Iran's seizure of British naval personnel on a routine mission in Iraqi waters on Friday raises the stakes in the already dangerous game of chicken that Iran has been playing with the West since they seized U.S. Embassy personnel in 1979.
Both incidents as well as the
killing of Americans with Iranian weapons in Iraq
and the killing of Americans by
Iran's proxy Hezbollah
are acts of war which carry serious risks and repercussions. Iran seems oblivious, or defiant, of that danger even going so far as to take this action on the eve of the latest vote in a series of UN Security Council
resolutions
"determined" to force Iran to comply with it's obligation to forgo development of nuclear weapons.
What is Iran Up to?
It's abundantly clear that Iran has been engaging in a war with the West ever since the Ayatollahs came to power. Their outlook doesn't depend on who sits in the White House or what U.S. policy is towards Israel or the Palestinians.
Walid Phares wrote an
interesting article
over the weekend exploring some of the dynamics of the problem as viewed from a Middle Eastern perspective.
Dr. Phares
reminds us
that Iran has always used the "Great Satan" excuse as a mechanism for controlling Iran's restive population. Despite that excuse rising protests and democratic activism are increasingly threatening the regime.
Nothing better than to goad the U.S. or Britain into an attack and use that as an excuse to clamp down on internal dissent. I'm wondering if perhaps Iran was hoping that the British would shoot back and defend themselves, as they had every right to do, and so claim that it was the British who attacked Iran?
Phares goes on to suggest that part of Iran's strategy is to "widen the propaganda campaign against the US and its allies via a number of PR companies within the West, to portray Iran as "a victim" of an "upcoming war provoked by the US."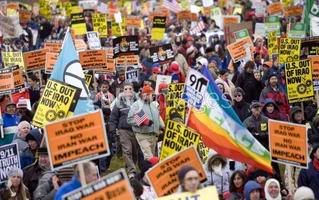 We've already seen evidence of that PR strategy with the
visit last year
by former Iranian President Mohammed Khatami to Washington's National Cathedral. And it wasn't hard to miss the mass produced message put forward with the help of the communist organizers at the recent "anti-war" protest in Washington: " Stop Iraq War, No Iran War, IMPEACH."
Undoing Iran WITHOUT a Military Strike
Over the years I have been cautious about endorsing a military strike against Iran. It might be necessary to use military means to abort Iran's plan to build nuclear weapons. But that might also make the ultimate objective of removing the second member of the
"Axis of Evil."
Talk, talk and more talk seems to be the only option many on the left and center have to suggest. But that won't work. What do you say to Iran? "You've been killing Americans for decades, please stop it?"
More aggressive and public support for the seething democracy movements in Iran seems to be the wisest course. We won't know what covert measures we are already taking to encourage Iranians to solve the problem themselves until the New York Times leaks it and the leaders of the democracy movement are murdered by the mullahs.
But as Michael Ledeen of National Review has often said: "Faster please." Time is running out and this game has gone on too long.
(I also recommend
Ledeen's latest column:
"Iran Is at War with Us. Someone should tell the U.S. government.")