Last night's debate cemented the fact that he is unqualified for and ill-prepared to be President!
As
Curt pointed out
earlier, the Obamatons were all whining like spoiled brats today!
"Wah! Wah! Wah! the debate was sooo unfair to Obama!"
Obama got hit hard last night in the presidential debate in Philadelphia with repeated questions that go to the heart of his character. And Democrats called that "trivial?" You would think after realizing how bamboozled they were by the Clintons, which some of them have only recently discovered, they would be loathe to make the same mistake again.
But then, YOU, dear reader (most of you anyway) would think. That's a skill not yet required by the Obamatons.
The whining that most Obamatons engaged in today seemed to be based on orders from headquarters as the candidate himself engaged in yet another of his now famous variations of "if you dare to question me, you're creating a distraction from the issues."
He said:
"Last night, I think we set a new record because it took us 45 minutes before we even started talking about a single issue that matters to the American people. It took us 45 minutes!"

"Forty-five minutes before we heard about health care. Forty-five minutes before we heard about Iraq," he continued. "Forty-five - 45 - minutes before we heard about jobs. Forty-five minutes before we heard about gas prices."
Obama Doesn't Get It!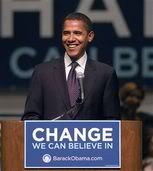 What the arrogant and defensive Obama doesn't seem to understand is that Americans won't trust him to address these other issues that he claims to care so passionately about if we can't be certain about his character. And up to now we haven't learned very much about the man except that he gives great speeches (sometimes) and people swoon.
The last time people trusted a man with supreme power who gave great speeches where people swooned we ended up with the Holocaust and nearly 60 million people dead in World War II.
No, I am not saying Obama is Hitler. Heck, he's too left wing for that. Stalin maybe. But we sure can't hand the keys to the White House over to a man who insists that we have no business inquiring into his character.
Especially when what we have learned thus far about his background leads many of us to have deep suspicions.
And here's a counterpoint video which should drive home the matter: