Allies Agree to U.S. Missile Defense Plan!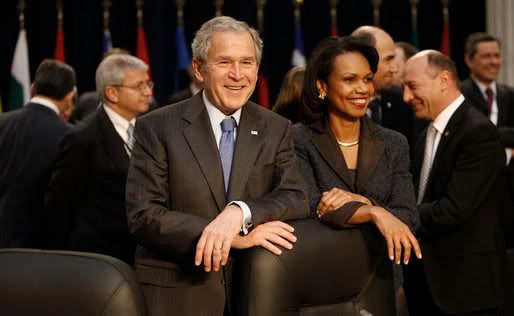 President George W. Bush stands with Secretary of State Condoleezza Rice Thursday, April 3, 2008, during the North Atlantic Council Summit in Bucharest. More photos and the full story
here.
White House photo by Eric Draper
Excerpt from:
Bucharest Summit Declaration
Issued by the Heads of State and Government participating in the meeting of the North Atlantic Council in Bucharest on 3 April 2008
full communique

Ballistic missile proliferation poses an increasing threat to Allies' forces, territory and populations. Missile defence forms part of a broader response to counter this threat. We therefore recognise the substantial contribution to the protection of Allies from long range ballistic missiles to be provided by the planned deployment of European based United States missile defence assets.
This is the culmination of the vision that President Reagan laid down 25 years ago last March:
Excerpt from:
Address to the Nation on National Security
President Ronald Reagan
White House Oval Office
Full text and audio
March 23, 1983

Let me share with you a vision of the future which offers hope. It is that we embark on a program to counter the awesome Soviet missile threat with measures that are defensive. Let us turn to the very strengths in technology that spawned our great industrial base and that have given us the quality of life we enjoy today.

What if free people could live secure in the knowledge that their security did not rest upon the threat of instant U.S. retaliation to deter a Soviet attack, that we could intercept and destroy strategic ballistic missiles before they reached our own soil or that of our allies?

I know this is a formidable, technical task, one that may not be accomplished before the end of this century. Yet, current technology has attained a level of sophistication where it's reasonable for us to begin this effort. It will take years, probably decades of effort on many fronts. There will be failures and setbacks, just as there will be successes and breakthroughs. And as we proceed, we must remain constant in preserving the nuclear deterrent and maintaining a solid capability for flexible response. But isn't it worth every investment necessary to free the world from the threat of nuclear war? We know it is.
...
I am directing a comprehensive and intensive effort to define a long-term research and development program to begin to achieve our ultimate goal of eliminating the threat posed by strategic nuclear missiles. This could pave the way for arms control measures to eliminate the weapons themselves. We seek neither military superiority nor political advantage. Our only purpose–one all people share–is to search for ways to reduce the danger of nuclear war.

My fellow Americans, tonight we're launching an effort which holds the promise of changing the course of human history. There will be risks, and results take time. But I believe we can do it. As we cross this threshold, I ask for your prayers and your support.
And it was an effort that changed the course of human history.
First by causing the implosion of the Soviet Union and the Warsaw Pact that held the nations of Eastern Europe captive throughout the Cold War.
Now, nearly all of those nations are clamoring to be admitted to NATO and actively embrace a close alliance with the United States. Many NATO nations and neighboring countries desiring to join have also been partners in our efforts in Afghanistan and Iraq.
NATO has changed the map of Europe and the world for the better!
full size image here.
Oh, and did I mention that the missile defense system Reagan envisioned actually works?