Hopes for a left wing Labour victory were demolished!
Highlights from the Daily Mail:
FINAL RESULT: Tories 331 (up 25), Labour 232 (down 24), SNP 56 (up 50), Lib Dems 8 (down 48), Ukip 1 (down 1)
David Cameron has secured an overall Commons majority, vowing to implement the Tory manifesto in full
In the best Conservative result for more than 20 years, Prime Minister visited the Queen to confirm his victory
Ed Miliband resigned with immediate effect after taking Labour to its worst result for three decades under Kinnock
Nigel Farage resigned as Ukip leader after failing to become an MP in Thanet South but could stage a comeback
Lib Dems left with only 8 MPs, leading Nick Clegg to resign after a 'cruel and punishing' night for his party
Big political names ousted by voters include Ed Balls, Vince Cable, Ed Davey, Jo Swinson and Esther McVey
Nicola Sturgeon's SNP swept to a stunning victory across Scotland, winning all but three of Scotland's 59 seats
The dust hasn't settled yet but it looks like the May 2015 parliamentary elections in the United Kingdom will be historic for many reasons. First, the Conservatives won big with what looks like an outright majority. No need for any coalition partner which is probably a good thing since their previous partner, the
Liberal Democrats were all but wiped out going from 56 seats to 8.
The other huge swing was the
destruction of left wing Labour Members in Scotland
where all but one lost seats in Scotland to the Scottish National Party. This leaves Labour unable to mount any serious challenge to Conservatives in the future.
All this came after the left thought the Conservatives were on the ropes and likely headed to defeat.
The other big story was the

failure

of the United Kingdom Independence Party (UKIP) to take more than one or two seats despite getting more votes than other smaller parties.

The big question now is that if Conservatives have an absolute ruling majority can they now institute a stronger conservative platform than was possible in coalition with the Liberal Democrats? Or will they "go wobbly" in the words of Margaret Thatcher?


UPDATE:

UK Election Looks Like Maggie Simpson?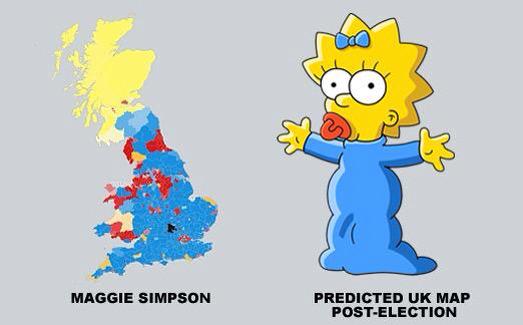 Who says American culture doesn't rule the world!