A woman of undoubtable grace, class, humility and humor!
BARBARA PIERCE BUSH
June 8, 1925 – April 17, 2018
Photographed at the White House with dog Millie c. 1990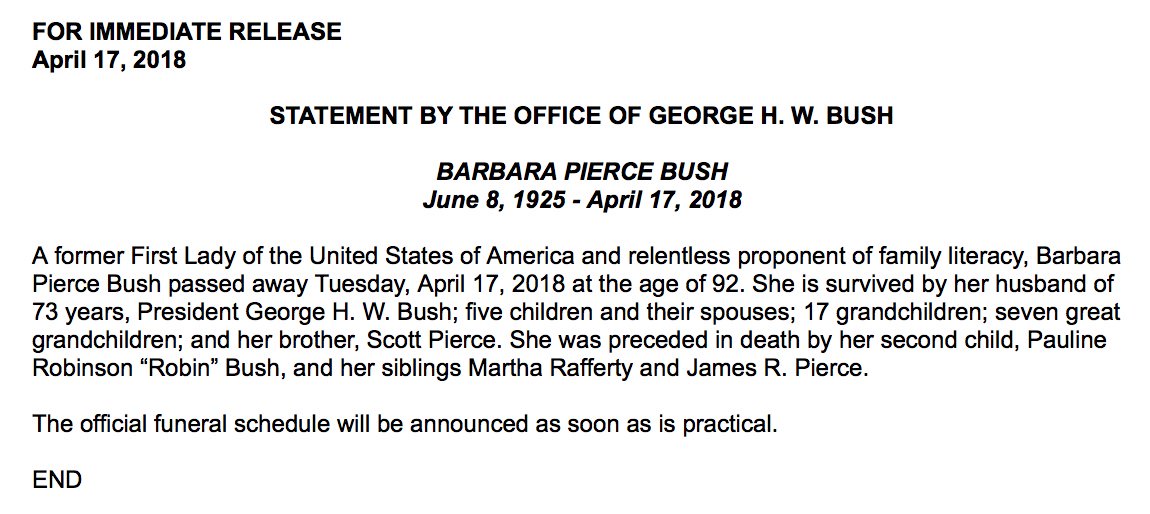 The last time I saw Barbara Bush was on the White House lawn November 4, 1992. She had just returned with her husband George and Vice President Dan Quayle and his wife Marilyn the day after their defeat in the presidential election. The presidential limo parked at the southern base of the large lawn nearer the Washington Monument. Both couples were forced to run a gauntlet of cheering supporters all the way up to the House and eventually giving a wave from the balcony. All of them, including Barbara Bush looked totally exhausted.
The George H.W. Bush Library has put together a special
web site
for remembering Barbara Bush. Go there for the
official obituary
as well as other biographical resources. I'll just share a few photo reflections here.
Above all, more than being First Lady, Barbara Bush prided herself on being a mother and wife to the over of her life, husband George.
Barbara Bush: "At the end of your life, you will never regret not having passed one more test, winning one more verdict, or not closing one more deal. You will regret time not spent with a husband, a child, a friend or a parent." Addressing Wellesley College graduating class June 1,1990. More notable quotes here.
Family First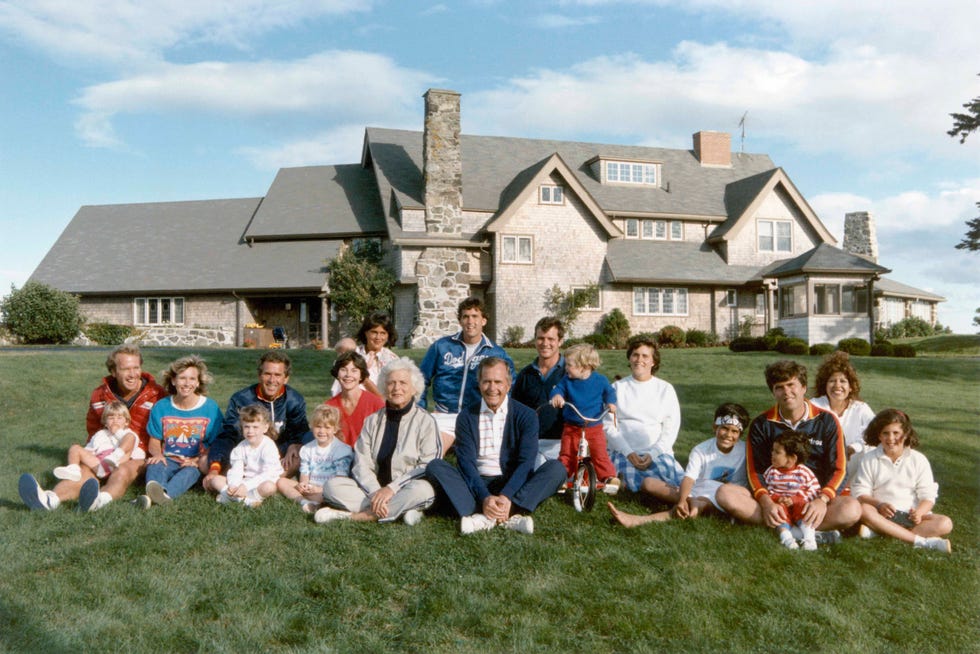 The Bush family in Kennebunkport, Maine August 24, 1986

Kennebunkport with Millie in 2004.
George W. Bush and Laura Bush at their wedding in Texas on November 5, 1977, with George H.W. Bush and Barbara Bush.
Duty Follows
Second only to duty to the family came duty to the country. Only the second woman in U.S. history who was both the wife and mother of a U.S. President (Abigail Adams being the first). She was fixture of Washington life for a generation. As wife of a Vice President followed by First Lady then grande dame of the growing Bush clan. My apologies to those too young to remember.
Photos do not do her sincere humanity justice: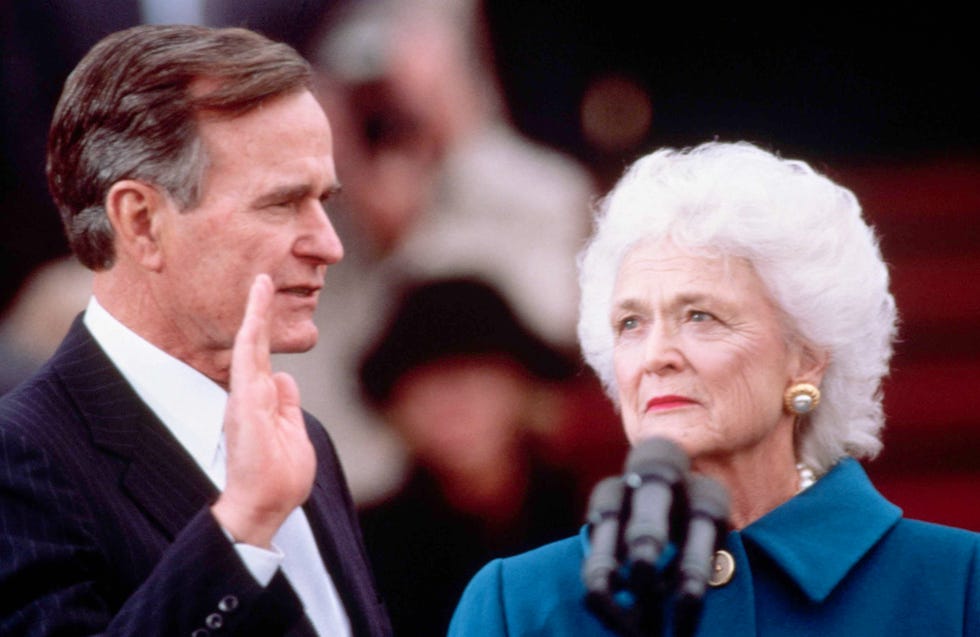 Barbara Bush watches as husband George H.W. takes the oath of office January 20, 1989.
(I was there)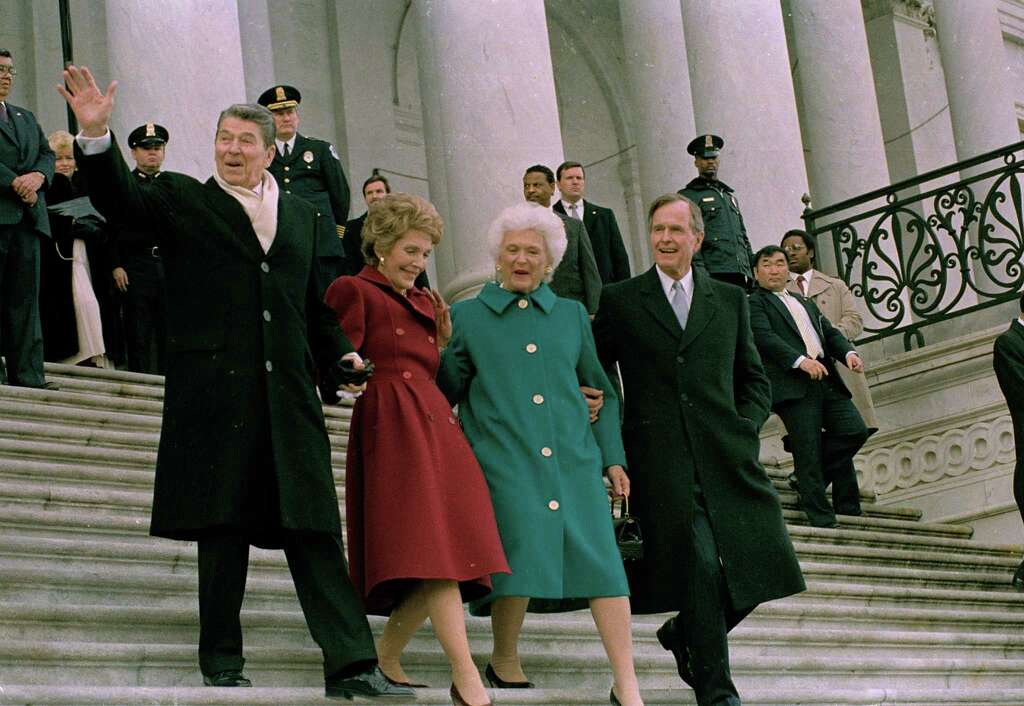 Walking the Reagan's to Marine One helicopter as they leave Inaugural ceremony 1988.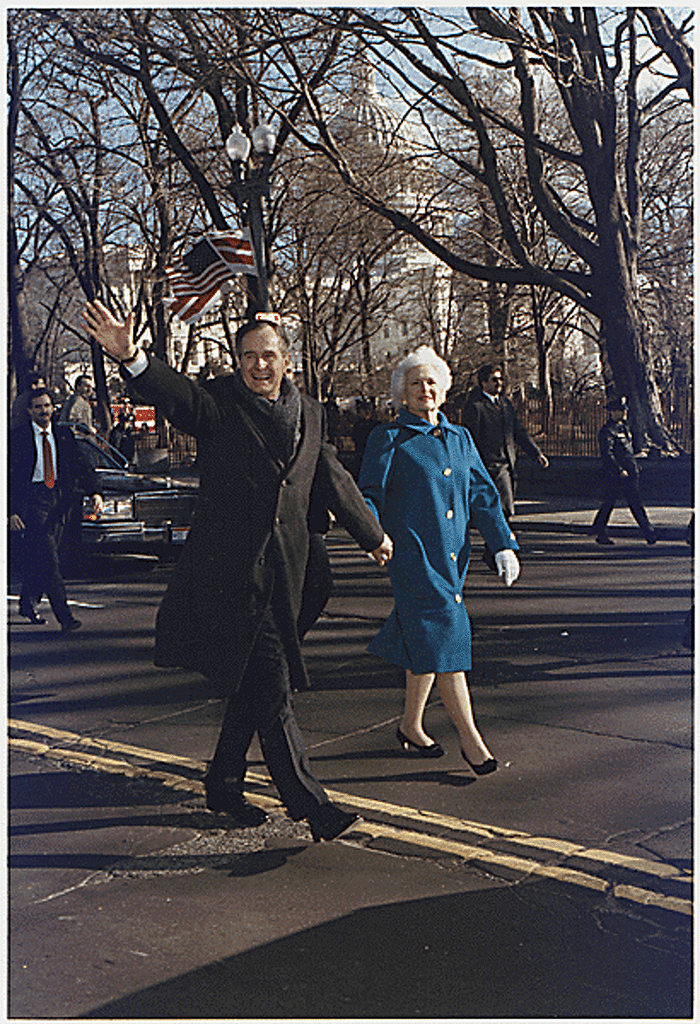 President and Mrs. Bush walk down Pennsylvania Avenue during
the Inaugural Parade January 20, 1989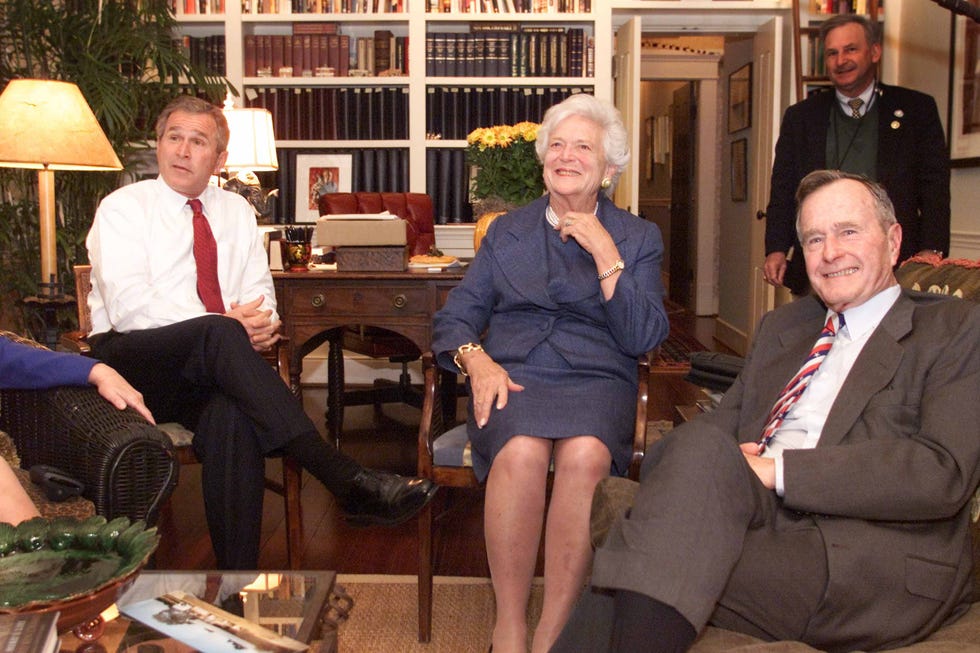 A tense night in Austin Texas with then Governor George W. Bush
on election night November 7, 2000. Result of the election was contested by Al Gore.
Greeting the World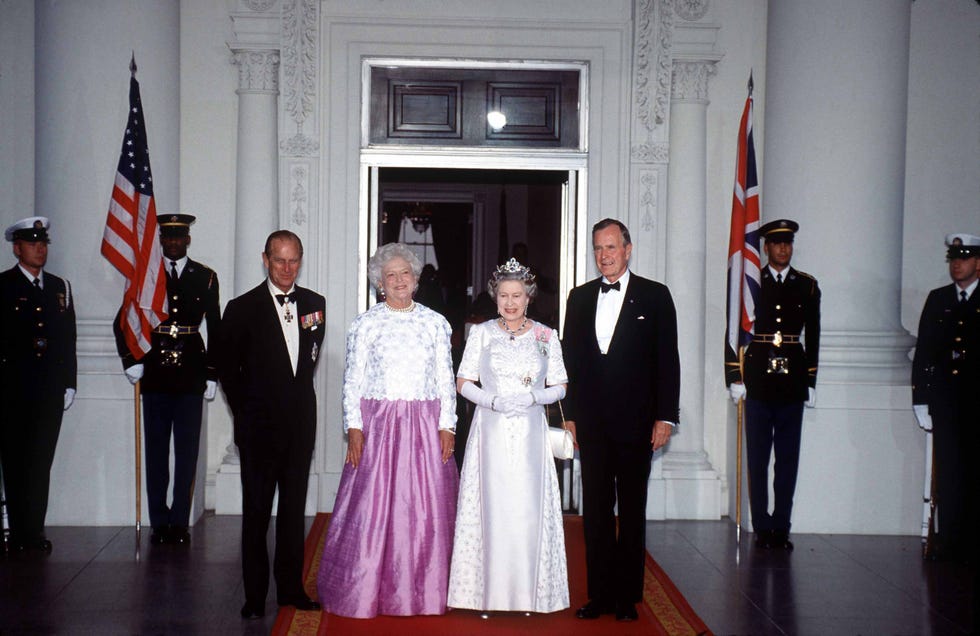 Welcoming Queen Elizabeth II and her husband Prince Phillip for a State Visit to the
White House May 14, 1991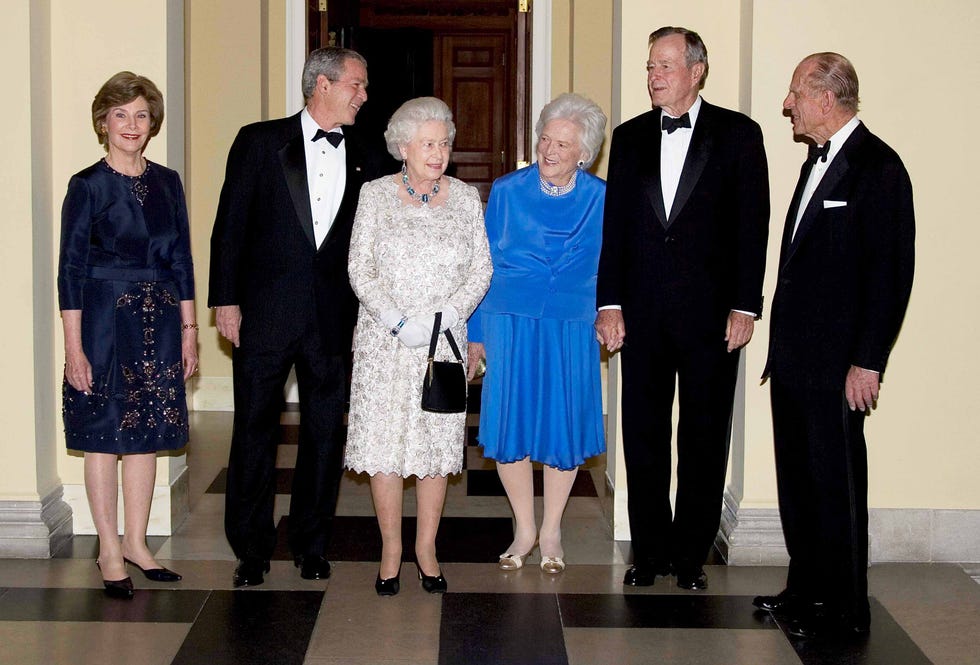 Former First Lady Barbara Bush shares the center spot with Queen Elizabeth II at the
British Ambassador's residence in Washington, DC on May 8, 2007.
Yes, she might Princess Diana too (
1
,
2
).
Barbara Bush was a charmer. Here she is kissing the hand of Denis Thatcher, spouse of UK Prime Minster Margaret Thatcher.
President Bush and First Lady Barbara Bush at Chequers with Prime Minster
Margaret and Denis Thatcher.
She also had to put up with a lot of unsavory characters:
Anyone want to caption this?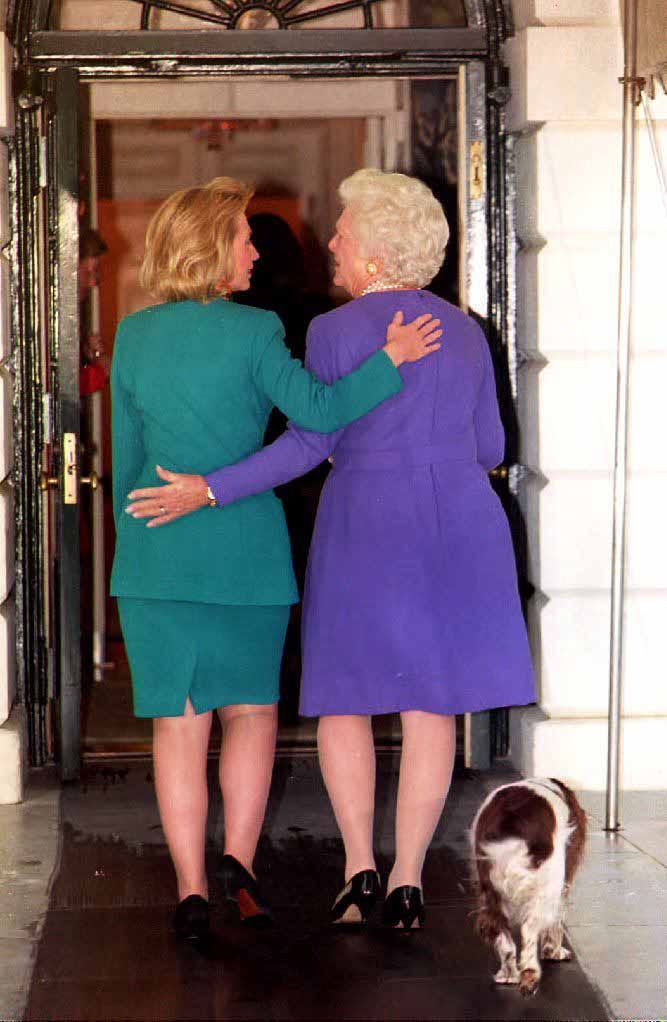 Welcoming Hillary Clinton to the White House November 19,1992
weeks after losing the election to Bill Clinton.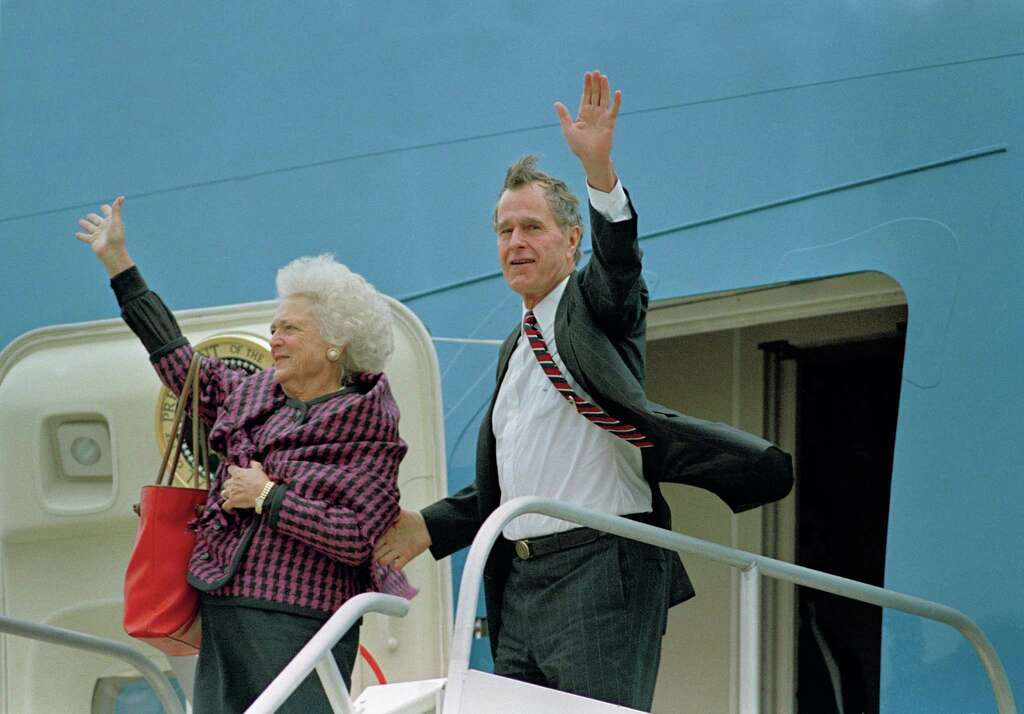 Good bye Barbara Bush!