President chooses most qualified nominee with broadest appeal. Not that it matters to Dems!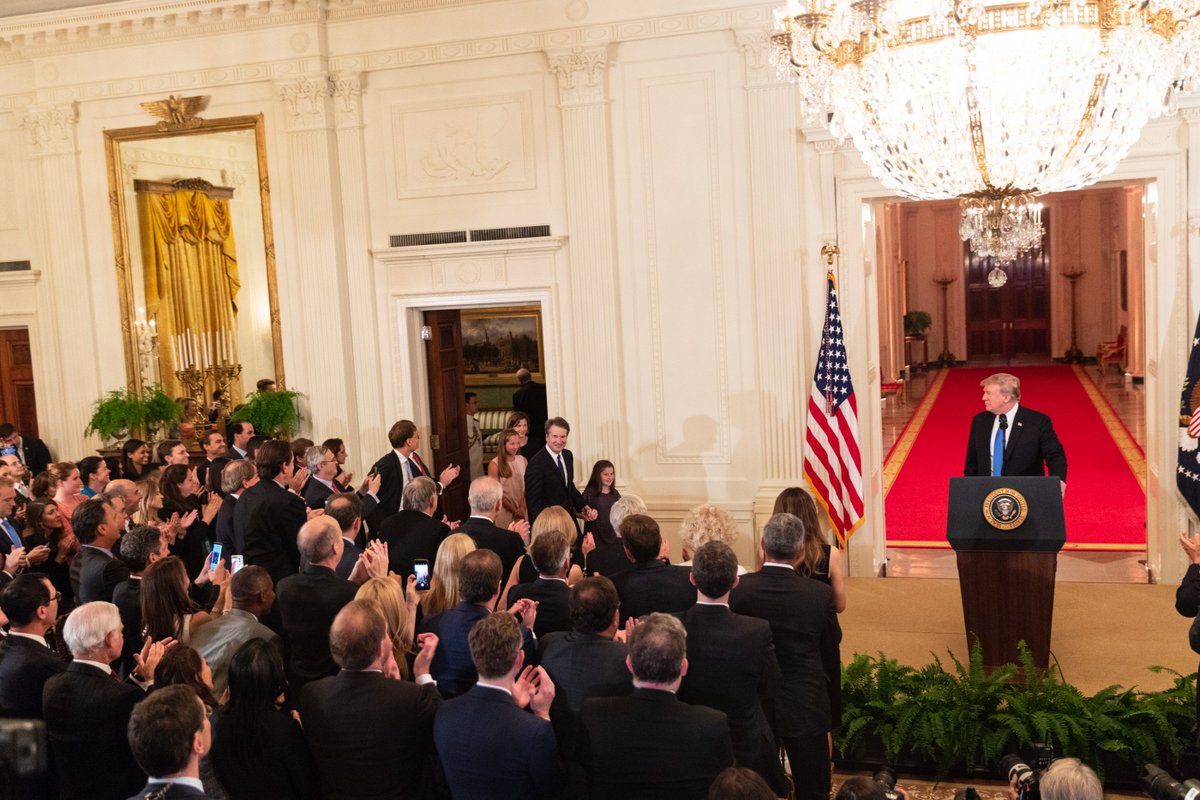 President Trump introduces Brett Kavanaugh and family to East Room of the White House as
he nominates Kavanaugh to the U.S. Supreme Court.
PRESIDENT TRUMP: I've often heard that, other than matters of war and peace, this is the most important decision a President will make. The Supreme Court is entrusted with the safeguarding of the crown jewel of our Republic, the Constitution of the United States.
...
In keeping with President Reagan's legacy, I do not ask about a nominee's personal opinions. What matters is not a judge's political views, but whether they can set aside those views to do what the law and the Constitution require. I am pleased to say that I have found, without doubt, such a person.

Tonight, it is my honor and privilege to announce that I will nominate Judge Brett Kavanaugh to the United States Supreme Court.

Judge Kavanaugh has impeccable credentials, unsurpassed qualifications, and a proven commitment to equal justice under the law.

A graduate of Yale College and Yale Law School, Judge Kavanaugh currently teaches at Harvard, Yale, and Georgetown.

Throughout legal circles, he is considered a judge's judge — a true thought leader among his peers.

He is a brilliant jurist, with a clear and effective writing style, universally regarded as one of the finest and sharpest legal minds of our time. And just like Justice Gorsuch, he excelled as a clerk for Justice Kennedy. That's great. Thank you. (Applause.)

Judge Kavanaugh has devoted his life to public service. For the last 12 years, he has served as a judge on the D.C. Circuit Court of Appeals — with great distinction — authoring over 300 opinions, which have been widely admired for their skill, insight, and rigorous adherence to the law.

Among those opinions are more than a dozen that the Supreme Court has adopted as the law of the land.

Beyond his great renown as a judge, he is active in his community. He coaches CYO Basketball, serves meals to needy families, and — having learned from his mom who was a schoolteacher in D.C. — tutors children at local elementary schools.

There is no one in America more qualified for this position, and no one more deserving.
In his
remarks
following Trump Kavanaugh described how his mother, a school teacher, went on to become a lawyer, a prosecutor and a judge. Kavanaugh said
"The President introduced me tonight as Judge Kavanaugh. But to me that title will always belong to my mom."
Judge Kavanaugh also worked in the Bush White House and was appointed as a federal judge by President Bush. Few have ever accused Bush of nominating overly conservative judges. Kavanaugh is certainly a more moderate choice than others Trump had considered. He was also selected as one who, because of his exceptional qualifications should be easy to confirm. Richard Wolfe, at USA Today
writes
"Brett Michael Kavanaugh may be the most qualified Supreme Court nominee in generations. "
Senate and House Republicans quickly lined up to show their support for the President's decision with
words of high praise
for Kavanaugh.
Predictably, the hatemongers on the left wasted no time in
condemning
Trump's pick. But their unrelenting campaign of blind hate makes them increasingly irrelevant to the hearts and minds of real America.
Left's "Boy who cried wolf" hysteria growing tiresome
As a duly elected President of the United States Trump has the constitutional power to nominate justices to the U.S. Supreme Court when vacancies occur. But since Trump was elected, Democrats have discarded all pretense of deference to the U.S. Constitution or the democratic process. Like the classic Marx Brother's routine, If Trump is for it,
they're against it.
Once again we see that political power is the only principle the left cares about. Let's face it: Trump could nominate Mother Teresa and the left would say she was a "dangerous extremist" and threat to democracy. Hate, fear and hysteria is all they have and they
make money
selling that to their millions of followers who, like their leaders, have no respect for elections. Unless they win.
Trump won in 2016 in no small part because he
promised
to nominate justices that would decide cases with the same intellectually rigorous and objective standard exemplified by the late Justice Antonin Scalia. A justice who doesn't reinvent the U.S. Constitution or make law but who understands the role of the court is to make sure the law is enforced as written within the constitutional framework.
As Obama once said, "elections have consequences" and the left will just have to accept it. Meanwhile, as we approach the fall mid term congressional election they will have an opportunity to be heard. Thus far, they're making fools of themselves!