Imagine if Trump were to answer a future Democrat subpoena by saying the information had been erased!
Last week the Department of Justice Office of Inspector General took the unusual step of issuing a special report describing how 19,000 texts, many between FBI lovers Strzok and Page who are at the heart of the get Trump cabal within the FBI and Special Counsel Mueller's office were deleted.
I gave this story a week to see if it had legs. It didn't. If it was mentioned at all it was so brief that I bet most people never heard of it. I have not heard any report that the 24/7 hate Trump media even bothered to mention it. But this is a significant key to understanding the entire cabal and their desire to get Trump no matter what.
We already know that FBI's Peter Strzok and Lisa Page sent a slew of messages on FBI phones describing the "insurance policy" and how it was being arranged with Deputy FBI Director McCabe. Their goal was clear: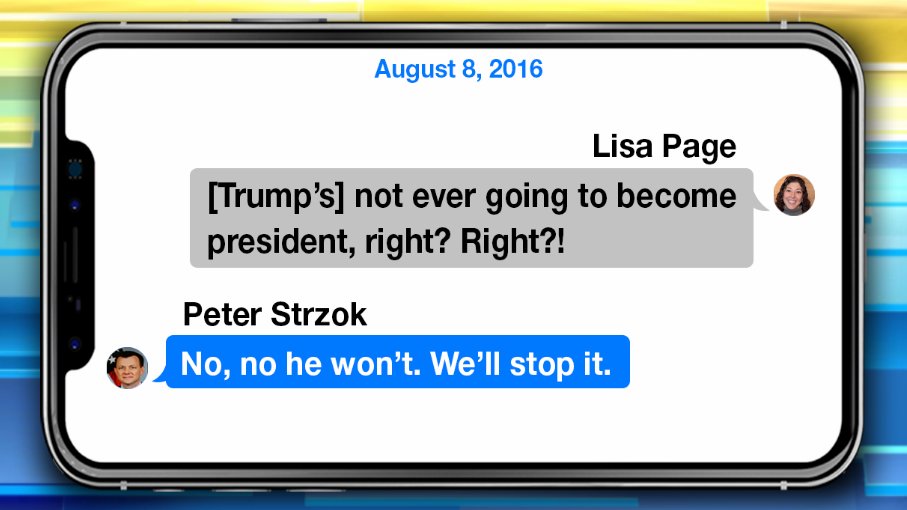 If they couldn't stop Trump from becoming President their goal was to fabricate a situation that would lead to his impeachment. Strzok, Page, McCabe and Comey have all been removed from their posts with cause. Yet, Democrats continue to follow this plan.
The Inspector General's extraordinary report covers the period when both Strzok and Page were working with Mueller at a time when General Flynn and other figures in the Administration were being targeted for investigation. Failure to preserve these messages makes the effort to uncover the cabal that much more difficult. Sidney Powell, former federal prosecutor
writes
:
This was after the inspector general informed Mueller of the extreme bias of Strzok and Page evidenced by thousands of text messages on their phones. These messages were so egregious they required their termination from Mueller's squad. Not only did Mueller hide this development from Congress, but he destroyed evidence on Strzok's phone and allowed DOJ to do the same for Page's phone. That's a crime. Mueller put Paul Manafort in solitary confinement for simply trying to contact a witness.

Any ethical law Department of Justice official would have taken custody of all electronic devices of Strzok and Page immediately upon discovery of their extreme bias and blatant misconduct — or certainly upon their termination — and preserved all the evidence. For Mueller to destroy this evidence is blatant obstruction of justice that warrants his immediate termination. The same is true for Deputy Attorney General Rosenstein who was "overseeing" it at the time.
Mueller had an obligation to turn those devices over to the Inspector
General's
office for examination. Instead they were erased. Just another "bureaucratic snafu"? That's the description Bill Clinton used to excuse all kinds of convenient shady goings on during his time in office. Imagine if Trump tried that. Democrats would being impeachment proceedings the next day.