And Steele had no credibility after lying to FBI but they used his dossier anyway for the top secret FISA warrant. Naughty, naughty!
The more unredacted version of the Grassley/Graham memo has been out for a few days and I've been wading through the findings. Interesting that it largely corroborates the Nunes Memo which Democrats did their best to denigrate. Odd, that the same media which parroted the Dem talking points attacking Nunes are largely silent. Not so easy to attack Senator Grassley and Graham.
1) Why isn't the (mostly) unredacted Grassley memo front page news? Here's why: Because it confirms the Nunes memo and blows up the Schiff talking points (which the media ran with).

— Kimberley Strassel (@KimStrassel) February 7, 2018
Grassley/Graham confirms that the FBI used the Steele dossier as the basis for the FISA warrant despite the fact that Steele's credibility had been called into question.
It also reveals the interesting Clinton connection through the State Department which supplied information for the dossier.
Some highlights:
And finally,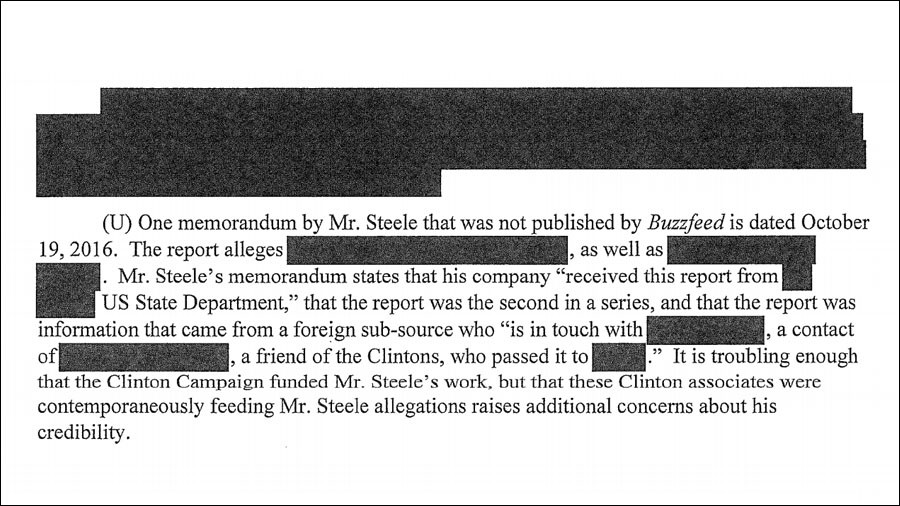 Just who is that "friend of the Clintons" who as passing along information? Why the
nefarious Sid Blumenthal
. Hillary's right hand dirt digger and dirty trickster!
In his earlier letter to the Department of Justice prior to the release of the Grassley/Graham memo, Senator Grassley, Chairman of the Senate Judiciary Committee said this:
"After reviewing how Mr. Steele conducted himself in distributing information contained in the dossier and how many stop signs the DOJ ignored in its use of the dossier, I believe that a special counsel needs to review this matter. The rule of Law depends on the government and all who work on its behalf playing by the rules themselves. I hope the Department of Justice will carefully review our letter and take appropriate action,"
Another top Justice Dept. Official Quits
In yet another twist to this story, David Laufman, who leads the DOJ's counterintelligence division is
quitting
for "personal reasons" according to the Washington Post. Laufman was a central player in the Hillary and Russia investigations. As Chuck Ross reports:
he sat in on interviews with the former secretary of state and several of her aides, including Cheryl Mills, Huma Abedin and Jake Sullivan. He was joined in those interviews by Peter Strzok, the FBI agent who is currently embroiled in a scandal over politically charged text messages.
We may have a better idea of the full extent of his role in this mega scandal when the DOJ Inspector General Michael Horowitz
files his report
soon.
Meanwhile, here's what we know for sure:
.@DevinNunes: "I knew as we kept building up to this...we had the story nailed, that we were 100 percent right." https://t.co/6VLazkaV5l @IngrahamAngle pic.twitter.com/C2ciJ5hqfU

— Fox News (@FoxNews) February 7, 2018
Stay tuned. This is about to get even more interesting!