Blind opposition from Democrats undercuts any argument against Gorsuch!
President Trump nominates Neil Gorsuch for U.S. Supreme Court Tuesday evening.
The late Justice Scalia, above, was a mentor of Gorsuch who replaces him on the court.
Gorsuch praised Scalia's approach in scholarly lectures.
Gorsuch
Background
: His mother was Reagan's head of the Environmental Protection Agency. He was Phi Beta Kappa at Columbia University, was a classmate of Obama's at Harvard Law School where he was a Harry S. Truman scholar and a Marshall scholar at Oxford University.
In
consideration
for a position on the Federal Bench Gorsuch received the American Bar Associations highest rating of well qualified. He received unanimous voice votes for confirmation by the U.S. Senate in 2006. NO opposition by Democrats!
Democrats Blind Opposition Without Principle or Merit
Of course none of Gorsuch's high qualifications matter to Democrats now. They have become the instant party of NO! Proof of which comes from the instant protest began outside the U.S. Supreme Court the moment Gorsuch was nominated. Professionally printed signs with Gorsuch's name were quickly distributed (signs with the names of other potential nominees were quickly stashed for later). Other signs with "OPPOSE" and "STOP" left the name blank and protesters were asked to write in Gorsuch. This is the extent of the protesters thoughtfulness on this important issue.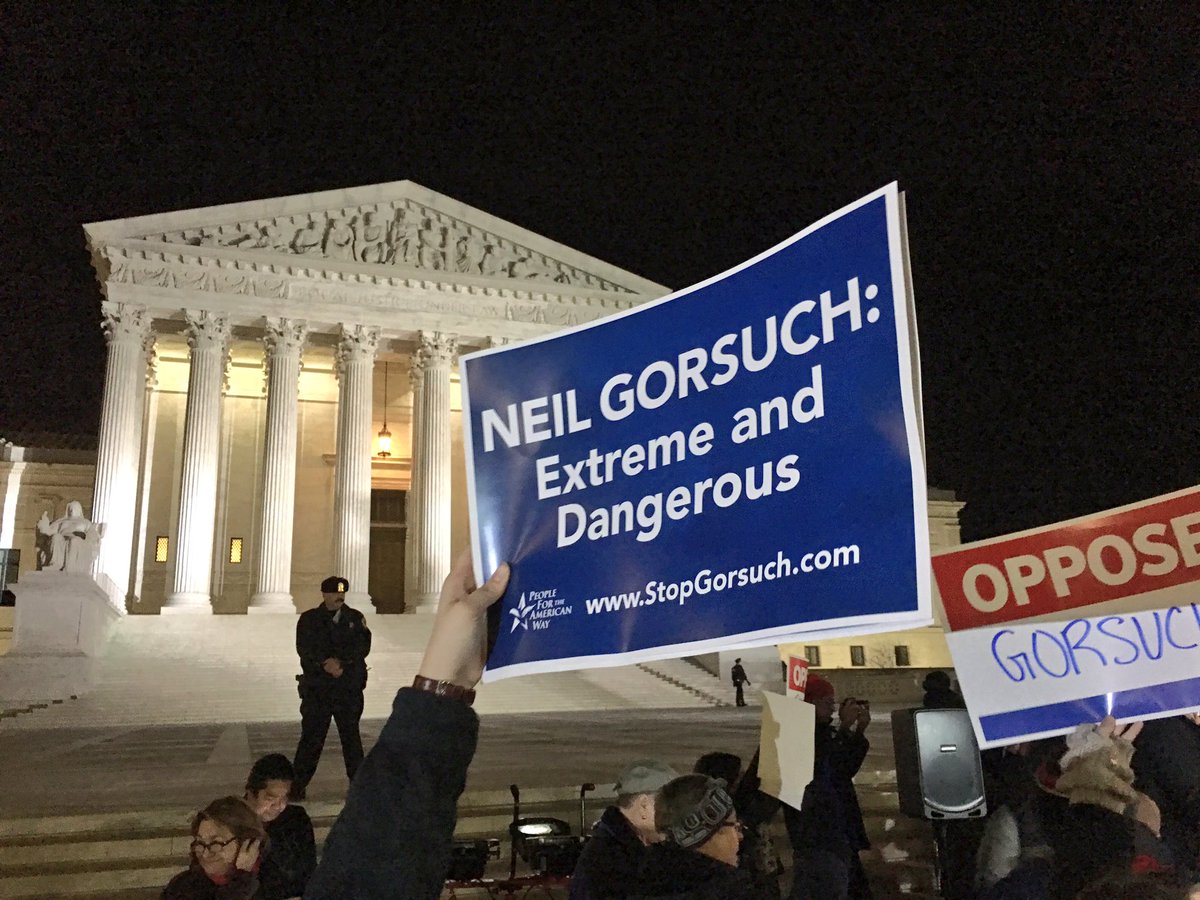 Rent-a-mob ready to go at Supreme Court with fill in the blank signs
opposing whoever Trump nominated!
And just as Trump was speaking, the left wing echo machine started up. The talking points in opposition to Trump's nominee had been prepared well in advance:
(fill in the blank) hates women, gays and minorities.
(fill in the blank) is for big business and against the environment.
(fill in the blank) is "extreme and dangerous."
(fill in the blank) is "outside the mainstream."
STOP (fill in the blank)!
These blind, reflexive obstructionists have proven the vacuity of their cause. They deserve no consideration for their baseless, idiotic views. Yet, Democrats will champion their empty headed cause. What choice do they have? Dems sold their soul a long time ago. They have no principle upon which to stand and they've proven it again tonight!